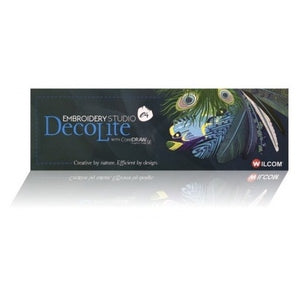 Secure and trusted checkout with
برنامج تطريز
Legal, unitary and licensing of Wilcom e4 DecoLite and CorelDRAW SE programs. You can effectively create and edit embroidery and cover the basics of embroidery that allows you to make a home machine. Get fonts, self-digitization, and monograms.
Self-digitization and connectivity to Corel allows you to import layouts
into. CDR and automatically convert them into embroidery with maximum quality in programming and noticeable stitch reduction that allows you to save on threads. 
What's included? An Encrypted Wilcom Flash Drive
 license of CorelDRAW Graphics Suite SE.
- Scanning tools.
- 250 embroidery fonts, letters and monograms.
- More efficient workspace.
- Display of garments and stitch simulator.
- Thread dock and color creation palette.
- Export in 40 different formats of embroidery machines that includes the most common machine brands in the world (industrial and domestic).
- 1 type of run or contour: Simple run.
- 3 types of stitch fillers: Plumetis, Tatami and ZigZag.